Hello there,
How are you today?
Lately, motherhood has been on my mind. Quite a lot, a bit more than expected. For many reasons, it is on my mind.
When I was younger, I always thought I wanted to have children. In general, mainly two, a boy and a girl. Then, I wanted to have more. I wanted to know what was it like to have a big family all together. In the best way possible. You see, growing up with an older sibling who is about 9 years older, then being living in two different countries, kinda didn't get us bonding a lot as siblings. It was more like an only child kind of deal.  I felt like I missed out, I felt a bit lost with my sibling. And years later, I left that train of thought and took advantage of our current situation.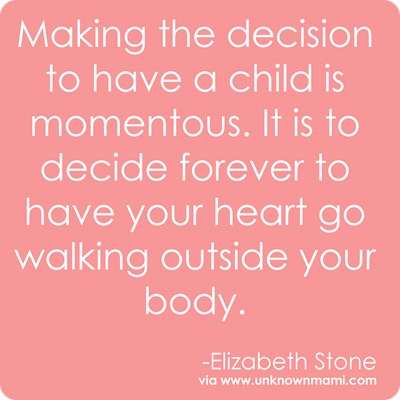 Moving on, as I become older I took on more responsibilities with children. I went from baby-sitting to teaching them. By the time I was 17, I had a Summer Camp monitor of sixty kids and more. By the time I was 20, I was a teacher's assistant leading a classroom of 30 children of 6 different classes. And since then, more and more. You do the math. Children of all ages,from pre-school to university, became more and more present in my world.
As I took those steps into the classroom, as I saw their faces every day for about 8-9 hours, I realized that I loved teaching more. I also realized that parenting wasn't for me. It is so much responsibility, not only to have one but several in fact. Shall we have them one year apart so they always have each other? Shall we have 4 years apart so they are different schools? And hence every single decision you make affects your future children.
Not only this, I have recently watched Cheaper by the Dozen which is based on a real story (10 years old, folks. A very young and beautiful Hillary Duff, a sassy Alyson Stoner, a clueless Ashton Kutcher and famous back in the day Piper Perabo from Coyote Ugly and Tom Welling from Smallville) where this family of twelve move due to their parent's dream jobs. All they kids had to do is pitch in, due their chores and that was mainly it while their mother was away. After all, their parents were giving them everything they wanted. It was just a new step for all of them. Nonetheless, I wasn't in the real family situation and I bet it is hard to sum it up in family comedy movie of an hour and half. Then, we have The Duggars. Which just fits into a whole different category. We have the Cimorellis. They are a big family where the six daughters got famous out of YouTube cover songs. They also moved to help their daughter's future career. It probably fits into a whole different category too, although they do seem like a very caring family.
Finally, real life families that I know. I have met quite a lot throughout my work. I have even tutored kids from their own homes where they are in their most natural form. I have seen so many forms of discipline and so much lack of it. I have dealt with children who think the teachers are the problem, ergo, leads to parents complaining about us. And I met the sweetest of children towards me but totally disrespectful to their parents. Of course, good hearted children too. It is always a good mix.
I see so many children you think they are entitled because they have the latest technology or because they were born in a better era. I have 8 years old who act like teenagers, who speak out to their parents time after time. I have 10 year olds who have behavioural problems for not getting what they want. All these issues are hard to tackle on the job. And I wonder, how is it at home? How do the parents handle this? I've seen some in action, taking away certain privileges but as soon as their child screams too much, they get what they want. I am not saying there isn't good parenting nowadays, I am just stating that it is very difficult to deal with many issues. Because at the end of the day, what do I know? I am not a mother yet. 
So, back to the point, this has been on my mind lately. Not because I feel like being a mother. Mainly because my decision has been not to have children. It has been for a couple of years already. I know, I know, I am too young and you never know. That doesn't rule over the fact how I feel about having children right now.
Yes, you can hear me say "My Children" time and time again, they are my students of the year. The ones that I am the hardest and sweetest. At the end of the day, off theygo home as I go home and relax. My closest friends always told me that I  would be a strict and loving mother. I love discipline, I love respect, I love manners. They say this because of the way I rule my classroom too. If you are disrespectful, you don't get extra sheets or a time out, you get to be excluded from some event or you do a presentation about a certain topic related to what you did. The list goes on.
I don't know if I would ever be a mother. Not that I don't love children, I do. I have been responsable for many and I know I will always be. It is in my nature. People sense it. I admire real parents so much. I admire their 24/7 jobs, their way of always being there and saying the right thing. Their way they do whatever they can for their children. I admire the ones that are always there, those are my heroes. 
The truth of the matter, I just don't see myself responsable for another life in this planet. For another life, for the rest of my life. Knowing that every decision, everything I say and do will affect their life.
Lastly, I say this today, I have been saying this for years. So, if in the far off future my child is reading this, remember people change, people evolve. Whoever you are, whenever you are born, you are wanted. You are loved. That is all I know. I am being the best I can be. I love you. 
Thanks for listening to me and a few thoughts on parenthood. There is plenty more where that came from for sure. Let me know your opinion.
Spread the love, 
The Always Believer 
For more on The Always Believer
Webpage: http://thealwaysbeliever.com
Facebook: https://www.facebook.com/thealwaysbelievers
Twitter: https://twitter.com/ToAlwaysBelieve
Instagram: http://instagram.com/thealwaysbeliever
Pininterest: http://www.pinterest.com/AlwaysBeliever
Glipho: http://glipho.com/thealwaysbeliever
Feel free to stop by and say hello! Follow and join us as we make this world a much happier place. 🙂